A summary of Tisha B'Av on The Website
On Tisha B'Av, The Yeshiva Website has entered an unprecedented number of surfers. Would you like to read the exact numbers?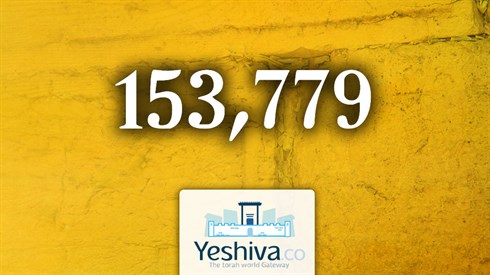 Tisha B'Av is one of the busiest days on the site during the year, perhaps the busiest day. The day after Tisha B'Av we checked the data for that day, and the results surprised us so much that I decided to share them with you.
During the day of Tisha B'Av, 153' 779 different users entered The Yeshiva Website, watching an unprecedented number of 291 624 pages on our website. It is important to note that the most viewed section of the site, with a noticeable gap over the other sections, was the Beit Midrash. During peak hours, the servers successfully faced close to 3,000 different surfers per second which is our record.
If we're already looking at the number of users and the number of page views, it turns out that during the last month 587,821 different users viewed 1,479,328 different pages.
The most viewed page on Tisha B'Av is - of course - The Laws of Tisha B'Av. A list of Halachot written by Rabbi Eliezer Melamed, and this year earned 35,564 views.
By the way, the most viewed answer is about putting on Tefillin during Tisha B'Av, an answer that received 18,827 views.
When you translate the technical numbers into people who use the Internet for Torah study, it is a huge number of people who have studied Torah and received halachic instruction through the site, more than one hundred and fifty thousand people. This is biggest Yeshiva in the world.
In addition to these numbers, we also looked at where the surfers came from. Of course, at the top of the list and with a large gap from all countries are the Israeli surfers on the Hebrew website and the American surfers on the English website. Yet we found some surprising facts down the list of countries, such as 70 Vietnamese, 19 Sri Lankan users, 17 Guatemalan surfers, and at the end of the long and varied list - one Pakistani and one Zambian surfer.
These numbers are in addition to the other tools of website - our ten popular WhatsApp groups, the YouTube channel and the Facebook page. In the WhatsApp groups, nearly 1,000 messages were sent during Tisha B'Av, and the live broadcast from Mitzpe Yericho which was on our YouTube channel during Tisha B'Av was watched by over 3,500 people.
In the last days, we have also uploaded the whole section of "Ask the Rabbi" in a new and up to date version, from both the design and the technological point of view.
Beezart Hashem and thanks to the surfers' contributions we will continue to serve as a significant tool for spreading the Torah throughout the web, because this is why we have Internet!
B'ezrat HaShem We will take comfort by the rebuilding of Yerushalayim