The Goats Brought Bears on their Horns
On being told that his goats were doing damage R' Hanina ben Dosa exclaimed, 'If this is true may bears devour them, but if not may each of them bring home a bear on its horns at evening.' In the evening each of them brought home a bear on its horns
1. Pious People and Small Animals2. Humans and Animals3. The Bears that Came Out of the Forest
The Talmudic tractate Taanit (25a) relates the following incredible story:
"R' Hanina ben Dosa had goats. On being told that they were doing damage he exclaimed, 'If they indeed do damage may bears devour them, but if not may they each of them at evening time bring home a bear on their horns.' In the evening each of them brought home a bear on their horns . . .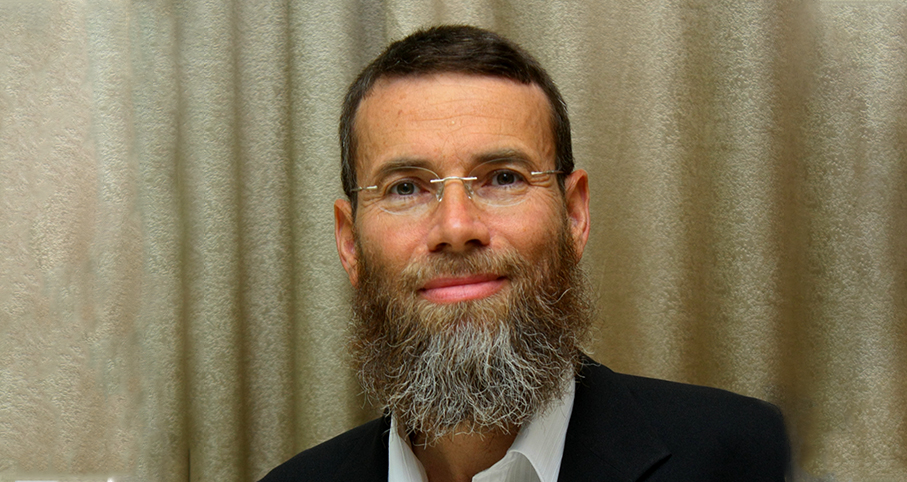 Eretz Agada (5)
Rabbi Mordechai Hochman
2 - Nikanor, His Doors, and the Sea Creature
3 - The Goats Brought Bears on their Horns
4 - The Ten Tribes Beyond the Sambatyon
"Whence did R' Hanina ben Dosa have goats seeing that he was poor? And furthermore, did not the sages say: It is forbidden to rear small domestic animals in the Land of Israel?
"R' Phinchas said: Once it happened that a man passed by his house and left there hens and the wife of R' Hanina ben Dosa found them. Her husband, however, forbade her to eat of their eggs. As the eggs and the chickens increased in number he was very troubled by them and he therefore sold them and with the proceeds he purchased goats.
"One day the man who lost the hens passed by [the house] again and said to his companions, 'Here I left my hens.' R' Hanina overhearing this asked him: 'Have you any sign [by which to identify them]?' He replied: 'Yes.' He gave him the sign and took away the goats. These were the goats that brought bears on their horns."
The sages forbid rearing small cattle - goats, for example - in populated areas because their owners tend to be negligent about watching over them and they end up causing damage to private fields. The Talmud asks why R' Hanina ben Dosa violates this law and responds that a person who rears somebody else's animals does not violate the prohibition (because we do not suspect a person of sinning for somebody else).
However, this answer is obscure: If R' Hanina had entrusted the goats with a shepherd, he would not have been culpable of violating the law even if the goats were his own; and if R' Hanina himself were the shepherd, why should the accusation not be directed at him as the one delinquent in his task? Why do the sages relate to the goats as if they were human beings, incriminating them instead of the shepherd?
Pious People and Small Animals

A similar question arises regarding another case of a pious person who rears small cattle (Tosefta Baba Kama Liberman 8:13):
"All the 'grape clusters' [i.e., people embodying Torah, fear of sin, and kindness] who arose in Israel from the days of Moses until the death of Yose ben Yo'ezer of Tzreda and Yosef ben Yochanan of Jerusalem were untainted. From the death of Yose ben Yo'ezer of Tzreda and Yosef ben Yochanan of Jerusalem some matter of taint was found in them, until the arrival R' Yehudah ben Baba.
"They would say of R' Yehudah ben Baba that all of his deeds were performed for the sake of heaven, except that he raised a small domestic animal. This is what happened: He once became ill. The doctor came and checked him. He said to him, 'The only thing that can cure you is hot milk.' He took a goat and tied it to his bedpost and would suckle hot milk from it because he was coughing blood.
"On one occasion, sages wished to visit him. They said, 'How can we visit a person who has a thief in his house?' When he died, the sages scrutinized his deeds and found this single transgression. Even he himself said, just before he died, 'I am aware that I possess no sin beyond the fact that I transgressed the words of my colleagues.'"
This anecdote is also very obscure. R' Yehudah ben Baba himself admits that rearing small cattle for medicinal purposes is a transgression even if the animal is tied to the post of a bed. Why, then, does he not fear being held accountable for this offense? In fact, the Tosefta itself is not understandable. How can such a person be called "untainted"?
The sages' parallel treatment of R' Yehudah ben Baba and R' Hanina ben Dosa is their way of hinting to us that these accounts can be understood on another level, one which contains the true meaning of the story and towards which we must drive.
Humans and Animals

According to the explanation I will offer here, these anecdotes are a kind of parable to an entirely different subject. They point to a certain dispute among the sages of Israel over the question of receiving charity in order to be free to study Torah. The "goats and bears" mentioned in this story are symbols that relate to this dispute.
There are authorities who permit receiving support for Torah study only if it is taken with no ulterior motives, i.e., when the recipient studies Torah for the sake of the entire Jewish people, to raise up the Nation of Israel from its downtrodden state. However, if a person simply prefers sitting idle and avoiding work, it is forbidden to receive such charity.
And then there are Torah authorities who take a more stringent stand forbidding all Torah scholars from receiving such support, even if it is taken for the sake of heaven. They make this sweeping restriction because of those students who accept such support for selfish reasons.
Finally, there are authorities who are lenient and allow people to accept such support even when it is not for the sake of heaven, based upon the dictum that "even if at first it is not done earnestly, it will eventually be done with pure motives."
This well-known dispute already existed in the days of the Mishnah, and the Tosefta presents it in the form of an allegory. It is possible to liken people to domestic animals, and these animals can be divided into two principle groups: large animals used for transportation or plowing (e.g., cows, donkeys, horses), and small animals or fowl which cannot be used for work (e.g., goats, lambs, chickens).
Working people who opposed the idea of supporting Torah students referred to Torah scholars as small animals, calling them "goats" and "chicken," appellations which indicate their lack of fitness for work. And they referred to the support given these students as a "loss" to the patrons. Money taken in a forbidden manner, they said, will bring no blessing to the patron, only loss.
R' Yehudah ben Baba "the Pious" was among those who permitted receiving support if it is done for the sake of heaven. He identified with the words of King Solomon in Song of Songs (2:5), "Sustain me with raisins, comfort me with apples; for I am sick with love." He was sick with a burning love for the Torah and longed to occupy himself with it at all times. He sought to remedy this illness by returning to "infancy," a time when the baby feeds from its mother and receives complete support without having to work at all; and the small animal he raised represents himself.
But his colleagues disagreed with him and asserted that it is forbidden for him to receive support for Torah study. And since we are dealing with a human, not an animal, their calling the creature reared in his house a "thief" is understandable. This title fits a human being, not an animal, and they were referring to R' Yehudah ben Baba. They considered him to be taking money unjustly and believed that he could be likened to a thief. Rambam (in Hilkhot Talmud Torah) echoes their reasoning: "[The sages] further commanded, saying: Love work, hate acting the superior, and all Torah [study] without worldly occupation finally comes to naught and brings sin in its wake, and such a person eventually becomes a thief."
However, since the prohibition is not agreed upon by all sages and there are those who assert that, quite the contrary, the Torah obligates us to accept aid in order to free oneself to engage in Torah, it is understandable that there is dual and conflicting positions regarding the sin of R' Yehudah ben Baba. It is understandable why the Tosefta begins by calling R' Yehudah ben Baba a "grape cluster," and describes him as being "untainted."
The sages who labor in Torah are of the opinion that the merit of their study prompts the flow of heavenly munificence upon the physical world and allows working people to succeed in their occupations. An echo of this position can be found in a popular teaching (Taanit 24b): "Every day a Heavenly Voice is heard declaring, 'The whole world draws its sustenance because [of the merit] of Hanina my son, and Hanina my son suffices himself with a heap of carobs from one Sabbath eve to another.'"
The "Hanina my son" mentioned here is R' Hanina ben Dosa, and the passage teaches us that the entire world draws its sustenance due to his merit. According to his position, the "goats" who receive support for Torah study cause no "loss" to the patrons. Quite the contrary, they bring them profit because the "patrons" achieve success in their work by virtue of this support.
The Bears that Came Out of the Forest

When the Talmud tells us that R' Hanina reared goats that were not his, it is teaching us that he belonged to the stringent school of thought which eschewed financial aid for Torah study. He earned a very meager livelihood throughout his life and subsisted on a "kab of carobs" each week (Taanit 24b). However, though strict with himself he was lenient with others. R' Hanina would collect funds from working people in order to support his students - the same ones his neighbors called "goats," "chickens," and "eggs."
According to R' Hanina ben Dosa, the students that he found should be engaged in Torah, but they lost themselves in the world. In this story R' Hanina undertakes to gather his students and bring them back - to themselves. The "lost" "chickens" and "eggs" mentioned here symbolize the various stages of Torah development that his students pass through.
R' Hanina's neighbors opposed the idea of supporting his students, and they bring support for their opposition from the story of Elisha the Prophet and the youths of Jericho (Second Kings 2:19-24 ). The Talmud (Sotah 46b) tells us that the youths of Jericho earned their living by drawing and bringing pure water from outside the town, for the town's water was bad. When Elisha healed the city's water these water-carriers lost their source of income, and this caused them to deride Elisha and speak disparagingly of him.
In Proverbs (10:22), it is written, "The blessing of the Lord, it maketh rich; and toil addeth nothing thereto," and it is clear that Elisha sought to act also for the good of the youths. Elisha was of the opinion that it is permissible to receive support in order to study Torah. We likewise find in the Talmud (Berachot 10b), "A person who wishes to derive benefit should derive benefit like Elisha."
Elisha instructed the people of Jericho to continue paying these youths the money they had been receiving for their water drawing services, but from now on they would spend their time studying Torah. However, it becomes apparent from the biblical narrative that the livelihood which Elisha provided them did not bring a blessing. Instead of speaking words of Torah they spoke disparagingly, and in the end bears came out of the woods and struck them.
Those who dissented from R' Hanina ben Dosa believed that Elijah the Prophet himself disagreed with the approach of Elisha, his disciple, and that it was he who disguised himself as the bears. Indeed, we find (Baba Metzia 85b) that Elijah appeared as a bear of fire and drove away those who wished to disseminate Torah to the youths. We likewise find (Ketubot 105b) that when R' Anan began to behave like Elisha and derive benefit from others, Elijah eventually appeared and frightened him.
The people of the city said to R' Hanina ben Dosa that the episode of the bears in Jericho teaches us that the support of his students (the "goats" he reared) causes a loss to the patrons. However, R' Hanina was of the opinion that the youths of Jericho are not a fitting example: The support they received is seen as having caused damage because there was not even a drop of Torah in them, as explained in the Talmud (Sotah 46b).
R' Hanina agreed to let Elijah act as his judge. If the youths are unworthy of support, let Elijah appear as a pack of bears and attack them; but if they are worthy, let bears testify as to their righteousness. And indeed, in the end, these goats were not attacked by the bears but rather proved their worthiness. And Elijah revealed himself to the people of the city and testified as to the worthiness of R' Hanina's students.
In our way, we have seen that in their Aggadot the sages were accustomed to using common expressions. Sometimes they voice agreement with the meaning of these expressions, as becomes apparent from the words of R' Yehudah ben Baba's colleagues. At other times they do not agree with the meaning, as is seen from the story of the goats of R' Hanina and from the opening of the Tosefta which refers to R' Yehudah ben Baba as a "grape cluster."
On the whole, these Aggadot are meant to shed a favorable light upon the various personalities which make up the Jewish people.
Some of the translated talmudic sources in the above article were taken from, or based upon, Davka's Soncino Judaic Classics Library (CD-Rom), and some of the translated biblical sources were taken from, or based upon, The Holy Scriptures (JPS).
Eretz Agada

Nikanor, His Doors, and the Sea Creature

5766

Eretz Agada

The Goats Brought Bears on their Horns

Tevet 5767

Eretz Agada

The Righteous Whose Property Is Dear to Them

Tamuz 5766

Eretz Agada

The Ten Tribes Beyond the Sambatyon

Iyar 5767