Jewish Laws and Thoughts
Ein Aya
Ein Aya Shabat Chapter B Paragraph 36 (p2)
Life is Valuable- Even of the Unconscious
The fact that life supercedes mitzvot helps us analyze priorities and what life, faith and mitzvot are really about.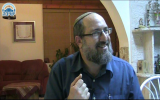 Ein Aya (223)
Rabbi Ari Shvat
97 - If the Main World is in Heaven- Why is There Such a Strong Instinct to Survive?
98 - Life is Valuable- Even of the Unconscious
99 - Is there Evolution or Are the Generations Diminishing?
Ein Aya

On National Leadership and Positive Peer Pressure

Ein Aya Shabat Chapter A Paragraph 10

Ein Aya

Why Should We Only Say "Yasher Ko'ach" in Israel?

Ein Aya Shabbat 5,1

Ein Aya

The Importance of Work & Secular Knowledge in Elevating the World

Ein Aya Shabbat 4, 5

Ein Aya

"Of All God's Miracles Large & Small..."

Both Nature & Super-Natural Are Necessary
Ein Aya

Just not Heartache

Ein Aya Shabat Chapter A Paragraph 31

5770

Ein Aya

Listen to Your Godly Inner Nature

Ein Aya Shabat Chapter A Paragraph 20

5770
Ein Ayah

Truth is Inside-Out But Justice: Outside-In

Pkudei

What Is the Worth of Shiny Gold?